Jo Blogg- The Easy Way Out
Jo Blogg- The Easy Way Out
6 Sept-30 Oct
Review by Tryphena Cracknell
'The Easy Way Out' traces a thread of reds, yellows and blues through Blogg's oeuvre. It also chronicles something of a personal and private retrospective, sketching out a storyline that the audience might not recognise, and neither should we, because it's none of our business.
Given 6 weeks to vacate the studio she had spent 14 years working in forced Jo Blogg to confront the gathered detritus of her creative space, and also presented the opportunity to reflect on more than a decade of her arts practice.
Shifting the collected materials, ideas, sketches, notes, artworks – a creative history – out of the studio, into the car, into her house, out of the house, to roadside, bin, op-shop; uncovered, as Blogg puts it, "gems and junk, concepts and crap, brilliant ideas and idiot bullshit."
The serendipitous rediscovery of a set of enamelled lapel pins from her days as an art school student in London inspired the exhibition title, 'The Easy Way Out'. At that time, Blogg's decision to pare back the palette to primary colours for these, elicited a response from her tutor, "That's the easy way out Jo." The pins, aptly titled, 'The Origin' became the keystone for this show, offering premise, colourway and quantity.
The exhibition development coincided with a period of change in the artist's personal life and this disorder could also be seen as a driver underpinning Blogg's ordered approach to this show. Do the instructions and bold directions provide a compass by which to progress through a time of instability - summed up by Bell Biv DeVoe's lyrical, 'Future's hazy, I don't know, Shit's crazy'?
Blogg has always been a patternmaker, attracted to patterns and colour. The works in the show resonate with this aspect of her practice, and with her penchant for salvaging discarded items of the everyday; picking up rolling pins, plastic tiles, fairy irons and repurposing them to carry her narrative layers. Blogg's exhibitions have most often presented works in the multiple, especially by the hundred, 'The Easy Way Out' simplified to sets of three. This austerity is further emphasised in the work 'Less (-) is (=) More (+)' inspired by a post by @bauhaus.movement. Blogg's works are inspired and informed by diverse sources. The mandala form is one of these, as in 'And then there was one' Pop art is another constant, and this meets impressionism in the creation of Blogg's meticulously pixelated reproductions of Thomas Gainsborough's c.1770 The Blue Boy. Small rectangular brush strokes, emphasis on light, a subject made ordinary by mass reproduction (maybe your Nana had one?).
1,2,3 The Origin
Lapel pins, Red $300, Yellow $300, Blue SOLD
Enamel on copper
22cmL x 5cmW each
$300 each
4 Bill, Bev and Jo
Perspex, fairy irons, silver
Approx 38cm x 11 cm
$900
5 Less (-) is (=) More (+)
Plastic tiles, acrylic, paint
Approx 85cm x 25 cm
Sold
6,7,8 Two is Company, Three is a Crowd
Glass rolling pins, acrylic paint
52cm L x 8 cm W
$300 each
9,10,11 Three of 200 (Dahlias)
Acrylic on acetate
19cm x 24 cm
$300 each
12 Red Boy (Recent), 13 Red Boy (Yesterday),14 Red Boy (Beyond)
Acrylic on Perspex
32 cm x 40 cm each
$1000 each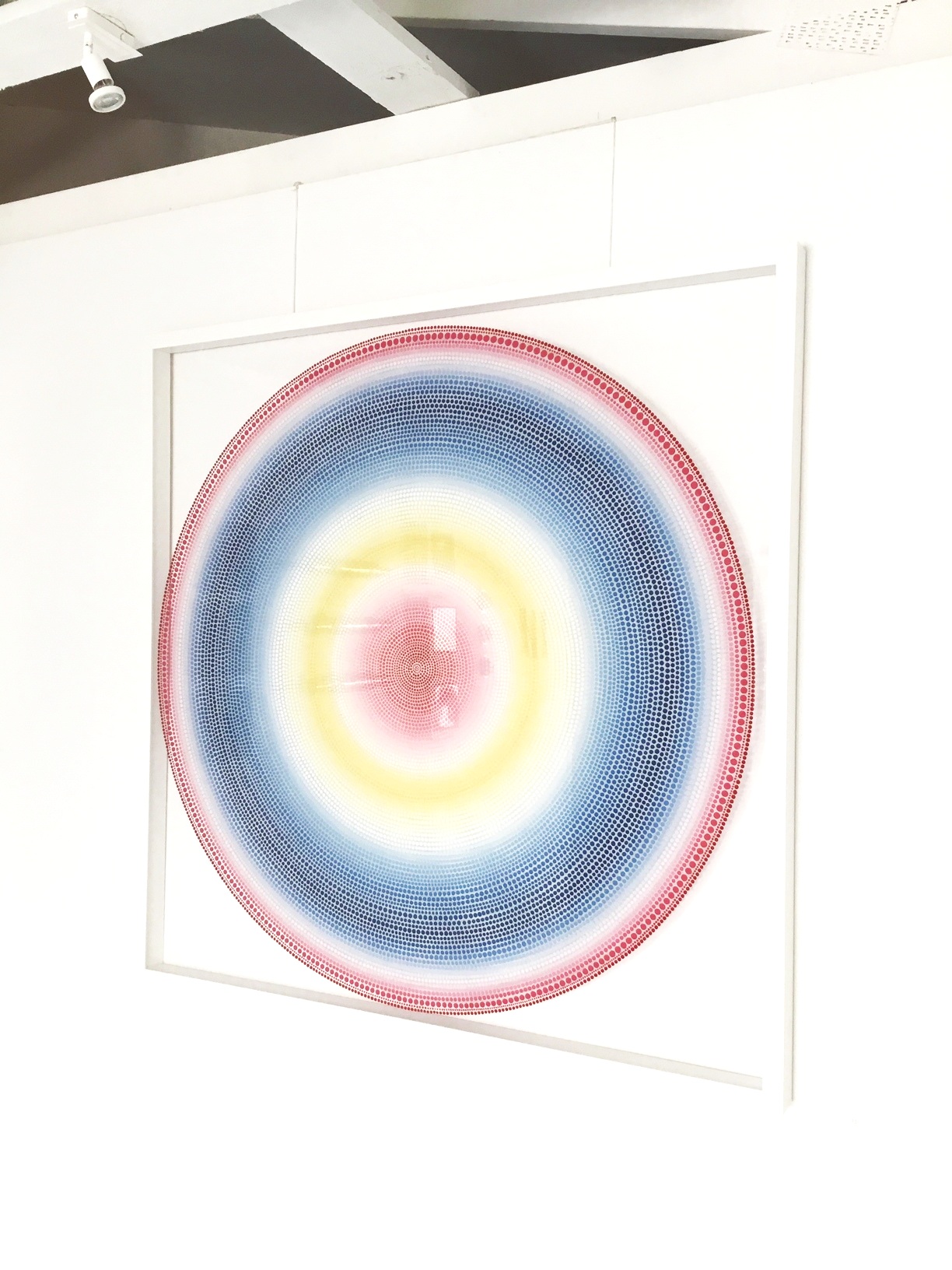 15 And Then There Was One
Acrylic on Perspex
127cm x 127 cm
$6000
16 Going Going Gone
Acrylic on road sign
102cm x103cm
$2000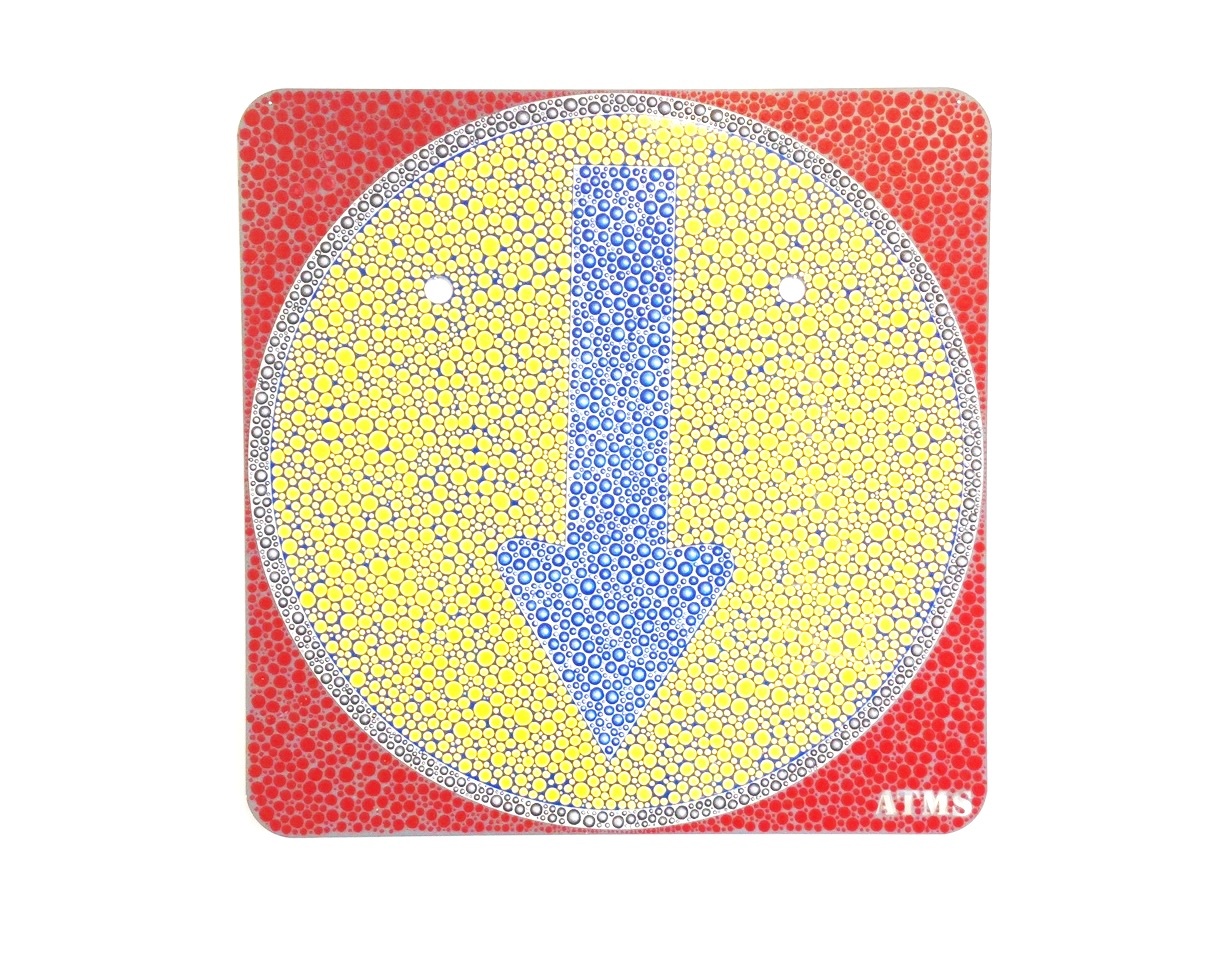 17. Going Going Gone
Acrylic on road sign
75cm x75cm
$2000 each
18.Going Going Gone
Acrylic on road sign
102 x 102cm
$2000